Want to get in touch or follow me on social media? Here's how: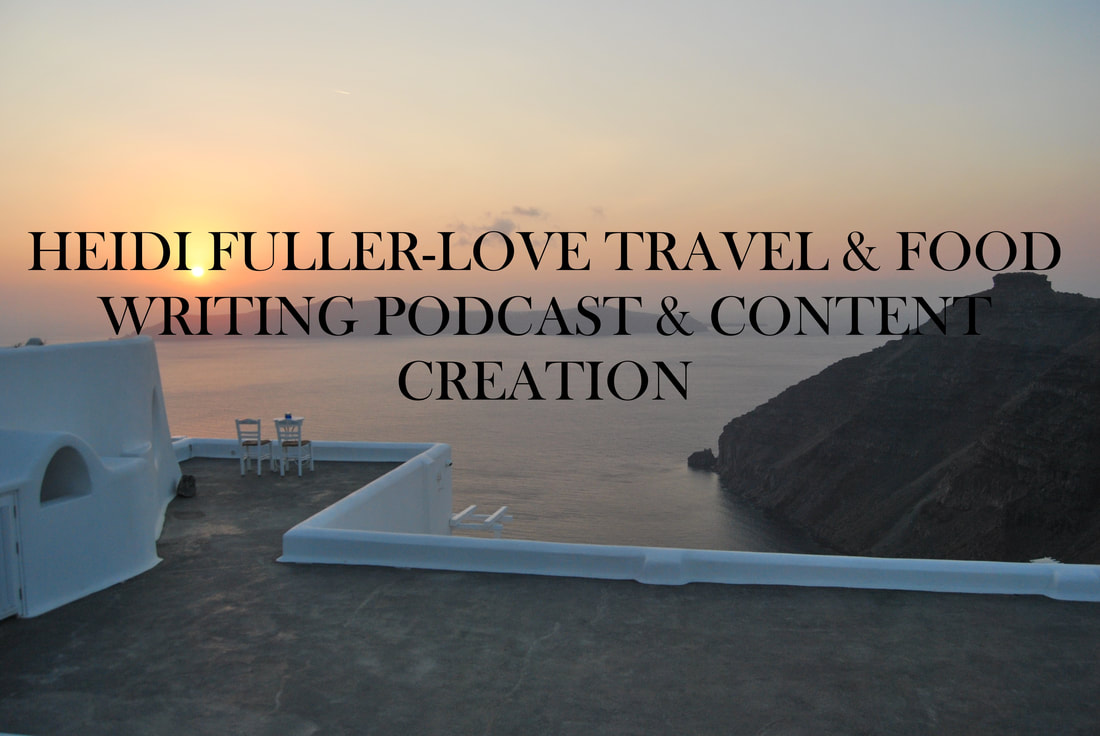 ---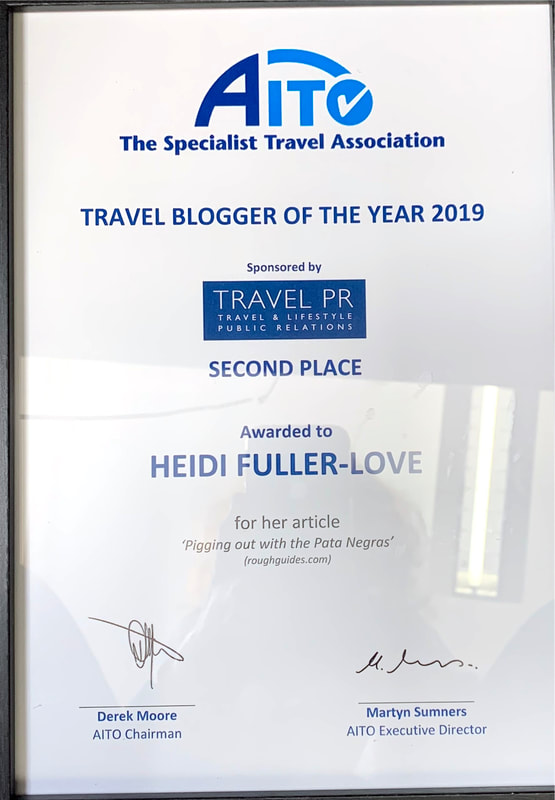 CLICK ON THE IMAGE ABOVE TO READ MY AWARD-WINNING FEATURE WITH PHOTOS
​
Hi! I'm Heidi Fuller-love. I'm a freelance travel,food & lifestyle writer with 25 years experience writing features & producing branded content for countless outlets ranging from The BBC, The Times, The LA Times, France magazine, to The Independent, The Times & Sunday Times (branded content); The Boston Globe, Rough Guides, Time Out, Culture Trip, The South China Morning Post & The Guardian, I also create branded content for luxury hotels & other businesses involved in tourism.
I travel for six months of the year (as a big slow travel fan I spend three of those months touring in my motorcaravan).
Currently based between Greece & France, I speak fluent French, good Greek (& Spanish) and I am Greece expert for The Telegraph (I also review 40-60 hotels per year for The T).
About 15 years ago I fancied a new challenge, so I took several courses & started creating audio. Since then my audio documentaries & features - on everything from Greece's guerrilla gardeners, to resilience after Katrina and climate change in the Maldives - have aired around the globe for The BBC, Deutsche Welle, RFI, Afropop & others (I LOVE sound!)
​Last, but not least, I produce & present the Meet The Locals travel podcast series for British Airways: recording live in the airline's destinations, I meet fascinating, knowledgeable - & often hilarious - local musicians, bar owners, impecunious aristocrats, crazy kilt makers (you name it, I've done it) who give me top tips for getting the best our of their home town (I LOVE meeting people!)
​You can hear more about the shows/ features by following the social media links below.


BELOW YOU'LL FIND A SMALL SAMPLE OF MY RECENT WORK. PLEASE CLICK ON THE IMAGES TO READ THE FULL FEATURES

RECENT PRAISE FOR HEIDI'S FEATURES

"You're on my list now, you did a really lovely job Heidi, thank you. Your piece was outstanding!" ​
Jennifer Cox commissioning editor branded content for The Times.

"It's a really excellent piece, great topical story, helpful current and historical context, and good colour, I'm really pleased with it."
Arlene Gregorius senior broadcast journalist BBC Radio current affairs.

​"I'm just emailing because I discovered your new podcast Meet the Locals and really, really loved it!
It's so vivid, the street sounds, the buzz of people and the history of Malta! I'm looking forward to the next episodes."
Kimberley Nyamhondera Press Officer Little, Brown.

​"Thanks for your photo gallery, Heidi..." (photo gallery & captions of Greece's ruined & abandoned businesses since economic crisis & covid).." It was brilliant stuff, and has performed really well for us - particularly on Search"
Greg Dickinson, Digital Content producer Telegraph Travel.
​
"It's a wonderfully, descriptive report Heidi - no surprise you're a travel writer. I could see it all in my mind as I read through it. And I love the way it combines a portrayal of life in Crete for these people with the newsy tax developments". Helen Seeney commenting on Greek farmers report for Inside Europe, DW radio.

"This is a great story. Fast paced, tightly observed and well written. I honestly never thought I'd be interested in caviar, full stop. But you have succeeded in more than exciting my appetite. Fantastic."
French caviar feature. Ramsay Short, Editor, Ryanair magazine.

"Your truffle hunting story looked really good on the page – it was a really great story, thanks for that."
truffle hunting feature. Carolyn Boyd, Editor, France magazine.

"Thanks for the work you have done for us - I have really enjoyed reading your features."
Peter Vaughan, Which Motorcaravan.

"Just to say your guide (to Athens) was excellent..thank you for excellent copy."
James Wallman Editor Wizz Air.

"I recently bought 'French Magazine' and read a lovely article, written by you. You will be pleased to know that your Spain feature will be in the June issue of The Caravan Club Magazine...and very nice it looks too."
Elizabeth Leay, Caravan Club magazine.

"..First off, can I just say how much I enjoyed your Ronda feature. It was beautifully written, so many thanks for that."
Danielle Green, British Airways Medlife magazine.

"Val is really pleased with your Malaga wine route feature" "Laura Gottelier, Warners Group Publications ​