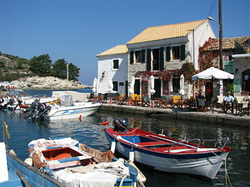 Paxos.Image copyright Travel a la Carte
For Summer 2013, we are once again working in association with
Paxos Life Activities,
of which Chris Griffiths, our Marketing Director, is the joint owner. This enables us to provide a wide range of special interest holiday courses and activities, through which visitors to Paxos may have the opportunity to learn more about the culture and history of the island, and to see it from a different perspective.
For Summer
2013 Paxos Life Activities is again offering courses in
painting, photography and yoga, along with
a number of creative writing courses: 'Crime Writing' led by highly successful crime writer Nick Oldham and 'Living the Dream – 'Making money from your Holidays' led by travel writer and photographer Heidi Fuller-Love who hosts a monthly travel show for British Airways in-flight radio
. The courses all i
nclude accommodation in villas
featured on this website but, for anyone who wishes to be more independent, it is
also possible just to join the group tuition
sessions...
CLICK ON THIS LINK FOR MORE INFORMATION ABOUT PAXOS LIFE'S COURSES