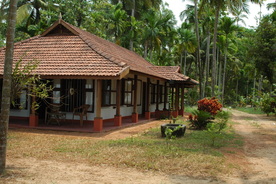 Gramman Homestay's spacious well-equipped cottage near Fort Cochin. HFL 2012
If you believe home is where the heart is, you'll want to head over to Jos Neduveli and wife Lyma's
cosy and very comfortable homestay
a ten minute rickshaw drive from the Chinese fishing nets, Kathikali dancing and other delights of Fort Cochin, Kerala, India.
Lucky enough to stay here for a couple of nights this Spring, I loved swanning around my spacious cottage ( constantly bustling into the well-equipped kitchen to stow drinks and snacks safely away from baking tropical heat in the fridge), or lazing in a hammock in the vast palm-tree shaded garden area, which looks directly out over the peaceful, lapping, traditional-fisher-boat-filled backwaters.
AND
best of all was when Jos took me chugging out - in a tuktuk driven by the region's only female driver - to eat the freshest, most delicious curried shrimps at a shrimp farm overlooking the backwaters.
Gramam Homestay is ideal as a base for exploring Fort Cochin
, but it's also a great place to stay if you just want to chill out. Whether you go for a few days or stay for several weeks, you're guaranteed to have a good time.
WANT TO FIND OUT ABOUT STAYING AT GRAMAM HOMESTAY, FORT KOCHIN KERALA INDIA? GO HERE