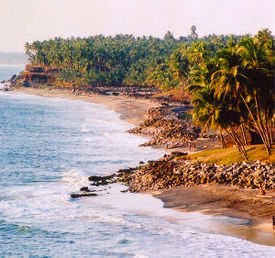 image Varkala beach wikipedia
If (quite naturally) you thought The Cobra was a dangerous forest snake and Sun Salutation has something to do with
nude sunbathing, consider a trip out to Sharanagati Yogahaus
(Varkala india) where yours truly is currently brushing up on her bends.
Great for yoga newbies, there's a two hour beginners course (for drop ins too if you happen to be in Varkala) every afternoon at 4pm and a course for more advanced yogis at 8am, taught by kind, patient Hari (and, boy, do you need to be kind and patient to teach ME yoga).
There's meditation, too, every morning between six and seven and if you come you'll catch me, cross legged and boss eyed staring up at the palm trees and meditating on the constant cacophony put out by flocks of pied crows, gaggles of red backed fishing eagles and all them big trucks blasting out temple festival music..So here it is again:
treat yourself to a relaxing chill out break and get those muscles moving at Sharanagati Yogahaus , north beach Varkala, Kerala india.
PS: Great food tood too!