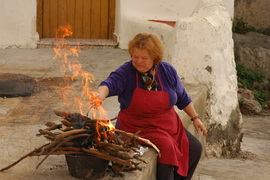 Corumbela, Andalusia. Copyright HFuller-love 2005
EXTRACT FROM NOTES FROM THE PUEBLO
A REGULAR COLUMN PENNED FOR EVERYTHING SPAIN MAGAZINE 2004 TO 2006.
Corumbela is the tiny pueblo where I've elected my (second) home - or perhaps that should be 'perch'? According to Pedro (the builder who lives two doors down and whose house tiled from top to bottom leaves me breathless with admiration) Corumbela means ' white dove' and way up in the cloud-wrapped Spanish Sierras this toy village surges out of the mountainside like a bird. If you grew wings you could soar up and see the pueblo careering down the side of the Sierra Almijara's twisted knuckles like wax from a candle that's dripped here for centuries ..
READ MORE? HERE..