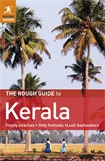 If ( like me),
you're setting off barefoot and with bated breath for a dizzy, scent- and sight-filled trip - on buses, boats, trains and planes -
around the state of Kerala, India, you might be wondering what guidebook
to drag around in your luggage with you.
My personal favourite - and the one I will actually take with me! - is the Rough Guide to Kerala. Practical and plainspeaking, it's great help when getting from A to B and has a good range of sight, accommodation and restaurant recommendations.
If you're looking for a travel bible that gives a deeper insight ..