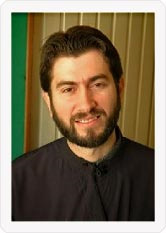 Seeing abandon children involved in drugs, made be wondering why ……and how I Could help them..»
At the beginning it was just a group of teenagers.I Suggested playing basketball......
The Ark today welcomes more than 187 children.
We will always be there for them.
Priest Antonios Papanikolaou is parish priest in the church of Saint George located in Kolonos.
Kolonos is one of the most dangerouns regions in Athens with many gangs involved in drags trade.
From the first time, he felt the need to act against this.
Thus, with the help of volunteers, the Ark of World was established . An Organisation with aim to oppose poverty and Children abandonment and offer the chance to :"stand own their own feet".
Children must feel that exists an another world, a caring one, beyond the one that they have known.
Our motive is love he says and we count on that.
The ARK was Established in 1998 by the 26 years old Priest, In order to provide the very best care and support for each children.
The purpose of Ark is to improve their living conditions and inspire them with hope for a better Future.The Ark in Athens, GreeceKivotos (Ark) is a multi-ethnic youth centre in Kolonos, a run-down inner-city neighbourhood. It offers a safe and secure home away from home for more than 300 children (Greeks, migrants and refugees) of broken or impoverished families. The children are fed twice a day and given the opportunity for creative play and sports.
The centre is open daily from 9am to midnight for children aged four to 17. It is run by Father Antonios Papanikolaou, a young Greek Orthodox priest, who has dedicated his life to rescuing hundreds of disadvantaged Greek and refugee youngsters from the brink of social exclusion.
For more information, ring +30 210 514 1935.
http://www.kivotostoukosmou.org