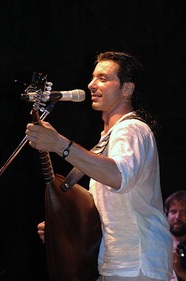 Mixalis Tsouganakis Copyright HFL summer 2011
KKKKKKOOOL CRETAN MUSIC of course..
And this Christmas there's a bumper crop. So if you're on the megalo nisi this festive season here's the not-to- miss list (CLICK ON LINKS TO HEAR THEIR MUSIC):
Kicking off with
Mr Kool himself, Nikos Zoidakis at The Apollon palace Ierapetra, DECEMBER 25TH
On the same day DECEMBER 25TH
Armeni-born Giannis Katsavavakis plays LIVE at Ambeles Tavern near the Minoan Palace of Zakros
, then swoops across to Sitia's Aspoperitis taverna to ring in the New Year on Dec 31st.
But even before Santa struggles down the chimney, the festive season begins with
dance master Nikos Vezyrakis who's gigging at
Kentro Astra, Anatoli Ierapetra on the night of 24th Dec.
And as Santa parks Rudolf, wipes the soot off his red booties , Vangelis Xoriatis and Kyriakos Karalakis will be setting ligh
t to the xmas pud with not one, but TWO nights of great music on the 24th and 25th just down the road at kentro Minore, Ierapetra
As if that wasn't enough to stuff the stocking, s
uper Mixalis Tsouganakis plays TWO dates 28TH DECEMBER at Diyenis Palas Agios Nikolaos (tel 6947184722) and 31ST DECEMBER a
t the Guzel Club in Chania.
And the final icing on the cake, tho' not strictly Cretan,
cute pop pin up Dionysis Makris will be crooning for his new year supper 31ST DECEMBER at Faros Live in Heraklion.
Thanks Santa!x