LIVING THE LAVENDER LIFESTYLE..Receiving a ..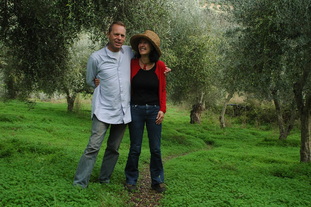 Enterprising couple Derek & Gill in their olive grove near Chania - the couple also produce their own extra virgin olive oil. Copyright HFL 2010
.. heavenly scented.. parcel in the post today from Gill and Derek owners of
The Lavender Way ,
reminded me of meeting this enterprising couple who quit the UK's fleshpots to set an unique organic lavender farm near Chania on the stunning island of Crete .. You can read more about their struggle with Greek bureaucracy in summer 2012 issue of International Living magazine, but unt
il then, if you want to receive some of those sweet scented parcels through your letterbox, check out their online shop
PS: For frequent travellers I heartily recommend Gill's Lavandula Spica. This unbeatably priced pure organic lavender oil is a lifesaver when you're plagued with sinus problems, migraines and other miseries caused by long plane/dusty train journeys.