CROSSING THE LOIRE five years on...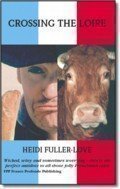 Five years after first publish date Crossing the Loire still sells steadily...Good to know that mashing up a tough life experience into tales of cross plumbing, wrathful neighbours, pitiful poverty and endless resourcefulness in a French setting was worthwhile... Proud it's called the NOT Peter Mayle book, too....and particularly proud that I survived to tell the tale..(!)
REVIEWS OF CROSSING THE LOIREWEEKLY TELEGRAPH ISSUE 681.
BOOKSHELF
From Get A New Life to A Place in the Sun, our television screens may have cemented views that the transition to a new life in sunnier climes is effortless and pain-free. Heidi Fuller-love's new book, Crossing the Loire, comes as a valuable sequel and antidote, providing the 'what happened next' to all the programmes and TV-sponsored books that fail to show the personal upheaval and costs involved in starting over..
..Crossing the Loire is a charming and witty account of the tribulations encountered by Heidi Fuller-love and her French partner when they quit their lives in London and Versailles respectively, to set up home in a tiny French hamlet.
From woeful tales of plumbing disasters, through tackling French bureaucracy when trying to start a business, to the idiosyncrasies of the locals (who will be immediately recognisable to anyone who is in the least acquainted with the French), Crossing the Loire will evoke waves of empathy in anyone who has attempted to settle abroad. If you are thinking of emigrating, maybe you should read this.
Jo Parfitt, The Weekly Telegraph

EVERYTHING FRANCE
Crossing the Loire
Heidi Fuller-Love

Opening to Édith Piaf warbling Je ne regrette rien, you would be forgiven for assuming that this travelogue again apes Mayle's writing on rosy rural French life. It doesn't. Fuller-Love makes it further than Silverstone - past the Loire, the divide between north and south, symbolic of two different lives in this book. But the issues Fuller-Love and Silverstone face are not dissimilar.
The living is actually not so easy,
as the author discovers - think of the crumbling ruins
of a home without heating. Add to this the trials of setting up a business in France and you have yourself a cracking read.
Everything France.